Support FaLLEN
Previous Page
Newest Illustrations
Newest Fanart
Advertisement
Top Visitors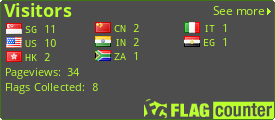 Newest Page Updated March 23 , 2015 |
★READ RIGHT TO LEFT★
Spring Cleaning
Posted on April 28 , 2015
Sent the Japanese edition of the graphic novel to print, waiting to see how those turn out before I send the English edition out. Posted a bunch of stuff to Patreon, won't be posting it here ;p Working on a bunch of stuff, trying to clean up the website a bit. Considering moving to WP... but boy I don't understand it. I'm just set in my ways, I guess. Anyway, if you guys see random blue colored text, uh, ignore that. Will post again when I have some books in my hand.
New Illustration, Short Hiatus
Posted on April 7 , 2015
So uh, yeah, I need to go on hiatus, haha. I want to get this book sent to the printers NEXT WEEK so I really need to just buckle down and work on this. Everything will return to normal once this book is on the shelf. For now, please enjoy the new illustration I posted that is actually from the graphic novel. I am not going to explain it because it is pretty hard to explain without giving away the whole story, haha. Just know it is for a bonus side comic in the graphic novel I won't be posting here that is, er, not exactly canon...
Chapter 9 Page 6!
Posted on March 23 , 2015
Posted this on Patreon yesterday for all tiers to see, so now I can post it here. Since I am only posting one page instead of the usual two, I'm only updating it here on the front page, but if you click the image you can see the full-size version.

To people who pre-ordered Volume 1; I've been posting teaser images on Patreon, dA, and even Twitter showing the progress. It's really close to getting finished, and the books will ship out in April instead of last month. I had said on other sites that the date had been pushed back due to the Inkblazers site closing, but forgot to mention it on the Storenvy page. You can still pre-order the book and get a free postcard with your pre-order!
GMI Awards, Calendar?
Posted on March 12 , 2015
I totally forgot to mention this last time, but THANK YOU to everyone who voted for FaLLEN at the GMI Awards last month! I am happy to announce that FaLLEN came in 3rd Place, which is pretty cool. I have some things to get through first but once I finish all the book work for the graphic novel I'm going to do some thank you art. I had a few recommendations for parody art in the same vein as last year's Slayers parody art with Lamia and Arma. This year, expect it to be an Utena parody (more 90s anime, haha) featuring Arma, Lamia, and Vox.

I posted page 5 as well as added an illustration to the art section. The illustration is a partial image from the calendar I made for people who donated to the Kickstarter at a certain tier. I decided to ALSO make that calendar available to people supporting the Patreon's $5 tier. If you donate to the Patreon $5 or more you can email me and I'll tell you how you can order the calendar, which is $15 + $3 for s/h. You have to tell me BEFORE I send the calendar to the printer, which will probably be Monday the 16th. This is the ABSOLUTE last chance you will have of ordering the calendar. By the way, a 4-image making-of gif is available on the Patreon for patrons. Patrons, by the way, are already getting advanced access to pages. I posted the new page yesterday for them, though as I get through my workload that could increase to two days in advance before long.
Not On Hiatus, Butttt.....
Posted on March 3 , 2015
Clearly I am having trouble keeping up with even two pages a week, thanks to all the problems I'm having with the graphic novel printing, which I am way behind on, so I have decided to cut it down to one page a week until this graphic novel is printed, in my hands, and shipped off to Kickstarter people. I'm about a month behind schedule and it's killing me! I want to get this over with already!! But since I don't want to cut corners on either the new pages or the book, I'm taking things a little slower. I think this is the smarter route. For me, at least. I won't update the archive until I have both pages for the set up, but you can still read the newest page here on the front page (and click it for a larger view). Sorry guys. But I'm posting a lot of things on the Patreon for supporters there. We reached our first milestone goal, on to the next! Check it out!
New Pages Up!
Posted on February 20 , 2015
Man, what a week. I rode on a bus for ten hours to Fukuoka, saw Motley Crue's very last concert in Japan ever ever with my husband (who was probably the happiest I've seen him in a year), rode ten hours back, and pretty much the minute I got home I found out my aunt passed away after a long battle with breast cancer. Not sure if I'll be asked to fly to Texas for the funeral... lots of strange feelings right now. Very tired, very sad... hoping I can get a lot done this weekend and maybe get back on track by the end of the month. By then I'll post an update on the Kickstarter page, but right now I need to be by myself and focus on work for a bit. So here are the next two pages, and again I apologize for the wait.
Thanks to everyone who voted for FaLLEN during the GMI Awards. I've removed the Voting banner and replaced it with a Patreon banner. On Patreon I've posted process photos of these pages and I'll be starting the character blog tomorrow with Vesta for the first entry. Also, check out the amazing commission I got from Spanish artist Eduard Balust featuring Arma, Lamia, and Vox in the Guest Art gallery! Also be sure to check out his dA gallery.
Patreon, Motley Crue...
Posted on February 16 , 2015
You may have noticed the new pages did not go up. I am running behind, which is awful timing because I've had an influx of viewers, but I did post some inked shots of the pages on my Patreon if you guys want to see. The $5 tier has access to those and the thumbnails. Everyone has access to a pic of Tuxedo Mask smoking a bong, though. Yup. Anyway, the reason I'm behind is my husband randomly bought expensive tickets to see Motley Crue out of town and I had to do a bunch of things before we leave today. That and I redrew the top left panel on one page like fifty hundred thousand billions times. I have been so lazy with perspective thanks to the old Inkblazers schedule, but now I have no excuse and need to get it right, haha. No shortcuts after this. So this week's pages will actually be last week's pages since I just learned I won't be home until Thursday and I leave in fifteen minutes... OH HUSBAND. Though I love Motley Crue, I really don't think we can afford to spend so much on a frickin' concert... especially when I have so much work to do.