Support FaLLEN
Previous Page
Newest Illustrations
Newest Fanart
Advertisement
Top Visitors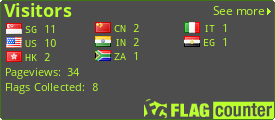 Newest Page Updated May 24 , 2015 |
★READ RIGHT TO LEFT★
More Pages, More Art, More Books
Posted on May 24 , 2015
Yes, yes, yes!!!! FaLLEN Volume 1 books are in, for both English and Japanese! The English version came out nicer since I learned from a few mistakes on the Japanese version, and they look pretty nice! Much happier with this print job. The books are available in the store, as you could maybe tell by the giant obnoxious banner, haha, and it will take you directly to the English version. Not only are the wonderful books in, but I also posted two new pages AND two new pieces of artwork that I used for some clear bookmarks. Merchandise, wee. If you are a patron on my Patreon page, you've already seen all of this, of course. I'll be posting the thumbs for the next two pages on my Patreon probably tomorrow. Still working on fixing HTML... slowly, slowly, slowly I'm adapting the site for mobile devices, but these Project Wonderful ads don't want to cooperate...
New Pages Up!
Posted on May 17 , 2015
Ahhhh finally! New page! NEW PAGE! I was gonna do two new pages but then I thought since I did six already I would just do seven to complete the set. Still doing rennovation on the site, so the coding is still wonky, but I think you can still read the pages all right. The English books are on their way, but the dust jackets may take another week. The print company is really busting my balls here... they said they'd give me a discount because they made a mistake on my last order, but when I got the billing statement there was no discount. So then I write them about it and they up and just ignore me. Unless these books are absolutely PERFECT, I don't see myself using this company again for Volume 2. But I dunno, we'll see. I'm also making a batch of bookmarks for Kickstarter backers, and they should be coming in around the same time as the covers.

I am actually posting a lot of things to my Patreon account now that I am done with the book stuff, and I've got a LOT of illustrations I have to do in the next month so I think I'll be posting a lot of progress images. Plus, I should be done with the hiatus for realies this time, so I am going to recommend people give the Patreon a try :D There's already about 30-something things posted to there you get access to instantly upon joining, and if the next milestone is reached I'll be posting videos! Already posted some of the bookmark artwork and this new page earlier this week, will be posting a lot more next week.

And if you guys didn't know, I'll be doing a mini book tour this summer in the US. 5 states in one month, hoo-boy. I'll be hosting panels, selling artwork, books, etc. I'm hoping to have some prints of non-FaLLEN artwork as well but that kind of depends on how much I can get done before then. But the comic goes first now, so I won't be skimping on updates anymore. If I'm late, you might check my Patreon, since I do post new pages on there first now.
FaLLEN Japanese Edition Books
Posted on May 9 , 2015
The Japanese books are in!! I know I normally only post pages from the comic up top, but I had to show these off. The Japanese books are in and now that I know what they will look like I am going in and tweaking some areas in the English book to improve the printing. I did most of it yesterday, so when I finish up today I'll probably send them off to get printed. But the Japanese books are available and I will be able to ship them out once the weekend is over. You can click on the image and be taken to the Storenvy page with the books for sale at $12.50 USD. The first image is still the mockup I used for Kickstarter and such, but there are three photos of the actual books.

I did also update the guest art gallery to include an image by the talented Ne0shin of Maris, and if you are on a mobile device you may have noticed the official art gallery is now more responsive to smaller devices. When I have spare time I am going in and fixing the code throughout the site to be more responsive, though I still have a long ways to go.
Spring Cleaning
Posted on April 28 , 2015
Sent the Japanese edition of the graphic novel to print, waiting to see how those turn out before I send the English edition out. Posted a bunch of stuff to Patreon, won't be posting it here ;p Working on a bunch of stuff, trying to clean up the website a bit. Considering moving to WP... but boy I don't understand it. I'm just set in my ways, I guess. Anyway, if you guys see random blue colored text, uh, ignore that. Will post again when I have some books in my hand.